About The Ceramic and Pottery Workshop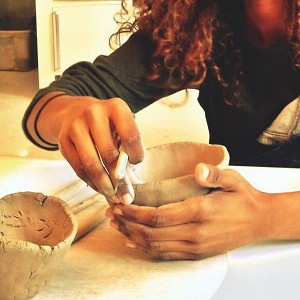 "Lava, mountains and rivers all is an inspiration into my art"
Join me for a half day or full day of ceramic and pottery workshop which promises to be exciting for both beginners and the more experienced artist. With my guidance, you will have the opportunity to explore this versatile medium and develop new ideas.
These fun and informative workshops are designed for those who are curious about clay (half day workshop) or want to further their skills (full day workshop). The workshops are focused on hand-building, throwing, or a combination of both techniques.
The half day workshop, ideal for beginners, is a great introduction to ceramic fundamentals. This is the start of your ceramic journey! It introduces the basic hand-building and wheel throwing techniques through practical demonstration and guidance. By the end of the class you will be able to use these two techniques at a basic level.
The full day workshop is for more experienced participants. You will be guided depending on your interests and level. We will have more time for extended demonstrations of both techniques and experiment to further develop your skills.
Working and living both in Iceland and Scotland for many years has influenced me very much. The beautiful nature, lava, mountains and rivers all is an inspiration into my art, important enough for me to want to share with others and clay is my medium to do this.
Enjoy a relaxing, creative time playing on the potter's wheel. Be prepared to experiment!
Availability
Not available from mid-June to end of July
Every day at 9:00 am or 1:00 pm for half day workshop
Every day at 9:00 am for full day workshop
Duration
3.5 hours approx. half day
6 hours approx. full day
Price
Half day workshop ISK 19,000 per person
Full day workshop ISK 35,700 per person
Half price for 9 years old or younger
Included
All necessary materials, use of tools and equipment
Coffee, tea, water and cake
Hotel pick up and drop off
Lunch is included in the full day workshop
Language
English
Amenities
Coffee shop, gallery and gift shop, free parking
I have been making ceramics for over thirty years and teaching courses since 1984. I have a BA degree in ceramic design and studied both in Iceland and Scotland. My artwork is influenced by the beautiful nature of both countries.
This experience is booked on request. We will let you know within 72 hours whether your booking request has been accepted or not. No payment will be requested until the booking is confirmed.
No booking fees or any hidden cost
Count on us to be there by your side
Creative Iceland's Original
Weatherproof
This activity takes place rain or shine
Skill level
Beginner and experienced
Recommendations
Bring your friend and wear clothes that you don't mind getting dirty
Other booking options
Four day workshop focused on clay work, with addition of wire, paper, and other materials. It includes tuition, refreshments, lunch and room.
Please, contact me for details.
Discount for ceramic art students and groups available. Please contact for details.
Grafarvogur. It is 15 minute drive from Reykjavík downtown, with a perfect setting for inspiration and creation. Hotel pick up and drop off included.
"One month ago, my boyfriend and I went to Hafdis atelier to do some clay work. Okay, it was my idea but just as a quick all-clear signal to all the wives and girlfriends out there: my boyfriend liked it. The atmosphere at the workshop is magical; you sit in an old white building surrounded by all these beautiful sculptures, candle sticks and all different kinds of chicken. Yes, chicken.
Hafdis showed us the secrets of pottery, how to make something nice out of a plain piece of clay. And surprisingly even my boyfriend created something that I would use to decorate our apartment. It was a nice day. Hafdis is a great teacher with a lot of experience in art and many stories to tell. You feel very welcome and you can do whatever you want.
She provides the opportunity to create your own piece of interior, to fulfill yourself and in the meantime, you lose your aggressions while pugging the clay. All in all, I must say that when you're in Iceland you should book a day with Hafdis, you will love it as we did and we will definitely come back."
"Wonderful workshop"
"Really enjoyed learning new techniques and meeting the artists. Hafdis was very welcoming and even shared delicious tradition pastries and coffee during a break. Her work is stunning. Would highly recommend this experience.
I would definitely recommend it to family and friends."